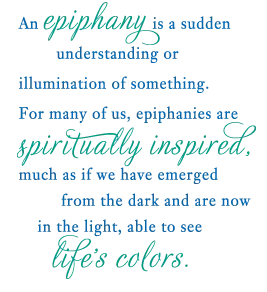 Hi, my name is Deb Stelzleni. Welcome to my web site. As a Licensed Professional Counselor and a Certified Sex Addiction Therapist, my goal at Epiphany Counseling is to create a confidential, safe and nurturing environment in which you can experience a healing process that will restore hope, health and vitality to your life.
My approach to psychotherapy is grounded in congruence of mind, body and spirit. I believe that all of us possess the organic capacity to heal and fulfill our potential, but that too often life experiences and, sometimes our own biology, undermine natural development.
A therapist's training, experience, academic credentials and appropriate licensure are foundational to developing a sound therapeutic relationship. These elements are much like the artist's tools of canvas and paint. While the artist relies on her base of knowledge, a work of art requires inspiration, talent and the ability to execute. I believe such is true of a therapeutic relationship with clients. Effective psychotherapy is a creative process.
Enjoying the creative challenge of practicing psychotherapy is my passion. While diseases and disorders have standardized symptoms, each one of you experiences your struggle from your unique perspective. One of my primary strengths is attuning to that individual perspective, identifying particular vulnerabilities, preferred learning styles and modes of change most likely to deliver the results you want.
As you shift from feeling disempowered to self-empowered, you can feel the joy of a healthier relationship with your self, your family, your colleagues and your community. Light and color have come back into your life.
The process of selecting a therapist can feel daunting. The relationship you and your therapist create will most likely be one of the most intimate relationships of your life.
To determine whether or not you and I might be able to create that kind of relationship, I invite you to read the rest of my web site. If you have questions, please call me at the number listed on the "Contact Deb" page. Thank you for spending time with my web site.